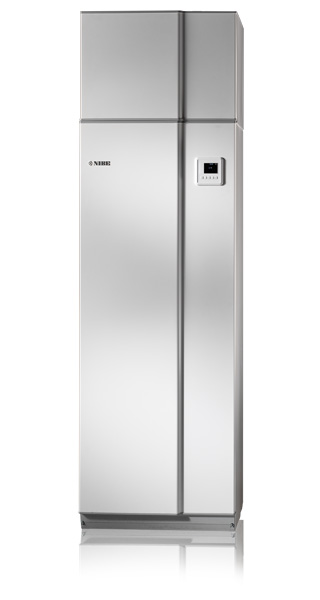 Огляд
Укомплектований вентиляційний тепловий насос для гарячого водопостачання, вентиляції та рекуперації тепла з повітря що видаляється вентиляцією.
NIBE F110 consumes much less energy than an equivalent conventional electric water heater
Gives great savings thanks to the large compressor with intelligent controls Can operate with air temperatures down to -10 °C (at outdoor air installation)
The integrated water heater is insulated with environmentally friendly, recyclable cellular plastic for minimal heat loss
Display unit with easy-to-read colour screen
Low energy fan
Scheduling of hot water, and ventilation if applicable, as well as holiday mode
The design of the ventilation section gives a low noise level and a high ventilation capacity with exhaust air installation
КОМПЛЕКCНІ РІШЕННЯ
Опис
F110 is a heat pump that works with exhaust air, outdoor air or the surrounding air. It has integrated fan and a water heater with copper or stainless steel corrosion protection.
Energy is recovered from the air using the heat pump and is supplied to the water heater, where the domestic hot water is heated. With exhaust air installation the unit also ventilates the house.
Основні розміри
See all technical data in the product leaflet.
| | |
| --- | --- |
| Height | 2030-2060 mm |
| Width | 600 mm |
| Depth | 605 mm |
| Net weight | 144 kg |
| Volume water heater | 265 litres |
| Capacity Warm water 40 °C | 365 litres |
| Refrigerant circuit, volume (R134A) | 0,38 kg |
Каталоги
Product
Valid
Type
File name

Valid

10/21/2015 - 1/1/2020

Type

Інструкція по встановленню

Product

NIBE F110

,

NIBE F750

,

NIBE F730

Valid

8/29/2014 - 1/1/2020

Type

Інструкція по встановленню

Valid

8/25/2014 - 1/1/2020

Type

Інструкція користувача

Valid

8/24/2016 - 1/1/2020

Type

Declaration of conformity

File name

DOC_0000536-1.pdf

Valid

12/12/2014 - 1/1/2020

Type

Technical information

Valid

2/3/2016 - 1/1/2020

Valid

9/10/2015 - 1/1/2020

Type

Енергетичне маркування

Product

NIBE F110

,

NIBE F370

,

NIBE F470

,

NIBE F730

,

NIBE F750

Valid

11/1/2016 - 1/1/2020

Type

Каталог теплових насосів

Product

NIBE F470

,

NIBE F750

,

SAM 40

,

NIBE F1245

,

NIBE F1245 PC

,

NIBE F1145

,

NIBE F1145 PC

,

NIBE F1155

,

NIBE F1255

,

NIBE F1255 PC

,

NIBE F1345

,

NIBE FLM

,

HPAC 45

,

HPAC 40

,

NIBE F2030

,

NIBE F2040

,

NIBE F2300

,

NIBE SPLIT

,

NIBE SPLIT ACVM 270

,

NIBE SPLIT AMS

,

AMS

,

VVM 310

,

VVM 320

,

VVM 325

,

VVM 500

,

SMO 40

,

SMO 20

,

NIBE F135

,

NIBE ARIA

,

NIBE Uplink

,

NIBE Solar FP215 P / PL

,

VPB 200

,

VPB 300

,

VPBS 300

,

NIBE F110

,

MT-WH2029-F-1FS

,

NIBE F130

,

VPD

,

VPA

,

VPAS

,

AHP/AHPS

,

UKVS 230

,

UKV 40

,

UKV 100

,

UKV 200-500

,

UKV 500

,

PELLUX 200

,

VEDEX 3300

,

UKV

,

NIBE SPLIT HBS 12

,

NIBE SPLIT HBS 16

,

NIBE F1355

Valid

3/10/2017 - 1/1/2020

Type

Каталог теплових насосів